Enthusing families with stem cell biology at Cambridge Science Festival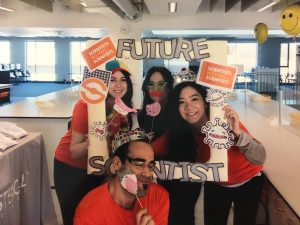 As part of the energetic "Cambridge UK Crew", scientists from INTENS participated in the Cambridge Science Festival on the 24th March 2019 at the Cambridge Academy for Science and Technology.  The Cambridge Science Festival is a yearly event that spans two weeks, with engagement from local scientists, academia, and biotech companies to share with the public the most recent advances in science and technology.  The last day of this two-week festival is a family day of fun interactive activities organized especially for children and teenagers.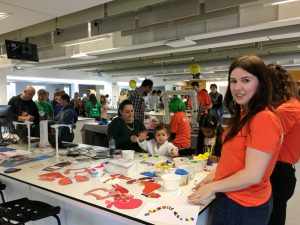 Led by Crystal Lee of (from STEMCELL Technologies – one the INTENS partners), the team created an enticing collection of fun, interactive activities for families including:
A "Future Scientist" photo booth: children dressed up in mini lab coats, mini lab goggles, futuristic head gears, and other props to take instantly printed photos.  We had several families return this year to take the exact same photo of their children (but one-year older) to document their yearly growth!
A USB microscope station: children could magnify objects up to 1000x and project them on a computer screen, allowing children to visualize the tiny details of ordinary objects like hair, skin pores, nail, clothing fabric, paper, sea shells, etc.
Augmented reality Internal-organ interactive activity: children could scan a code on a T-shirt worn by a "model", and have an interactive display of the model's internal organs pop up on the iPad screen.
A "Cell differentiation" station: children "differentiated" Play-Doh into different cell types and organs from a pluripotent stem cell (i.e. playdoh with many different colours).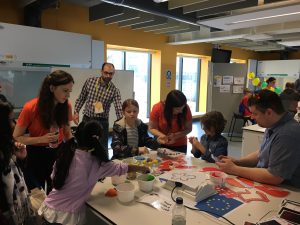 Thank You
This event was only possible with the help of INTENS (who supplied part of the booth material), as well as the support of our excellent volunteers who gave their Sundays for scientific engagement with the community.  Thank you to Alessandro Dei, Charlotte Taylor, Crystal Lee, Jamie Murphy, Jose Horcas, Rosie Greenwood, Salvatore Simmini, Sarah Lingard, Tom Mattimoe, and Victoria Stephenson.  A big shout out to this crew for all the help and energy at this event.  It was a great way to inspire small children to become our future generation of Scientists helping Scientists!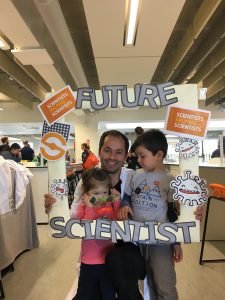 Links
Cambridge Science Festival: https://www.sciencefestival.cam.ac.uk/